Notices:
Thank you for a wonderful 2016-2017 season! We enjoyed having you at our Picnic on June 17.
Please be patient with us as we prepare our programs and update our website for the 2017-2018 season. We are targetting to open registration by mid-August for all levels. An email will be sent out to all members once our programs have been confirmed by our Board of Directors. In the meantime, make sure your profile is up to date and you are subscribed to receive our communications.
Our Synchronized Skating team, Ice Precise, is looking for skaters. Please see below for more information.
Have a great summer and we'll see you in the Fall!
Welcome!
The Mississauga Figure Skating Club (MFSC) and its nationally certified professional coaches have been offering CanSkate and STARSkate, Skate Canada's acclaimed national skating programs, to Mississauga residents for over 65 years.
CanSkate, our Learn-to-Skate program, teaches the basic skills needed for recreational skating, figure skating, and hockey. PreCanSkate (3-5 years old), Adult CanSkate (over 18 years old) and Parent and Tot (2-4 years old) members are taught in separate groups.
PreJunior, our "transition" program for CanSkaters who have passed Stage 4 CanSkate and wish to move toward the STARSkate level programs. The program offers the opportunity for young skaters to experience training in the STARSkate environment while benefiting from ongoing group lessons.
STARSkate offers the opportunity to experience the rewarding world of figure skating, either recreationally or competitively. The program is open to skaters who have completed the CanSkate program or its equivalent. Registration is ongoing for qualified skaters.
To learn more about our club and our programs, check out our info guides:
MFSC is also home to the Ice Precise competitive Synchronized Skating teams.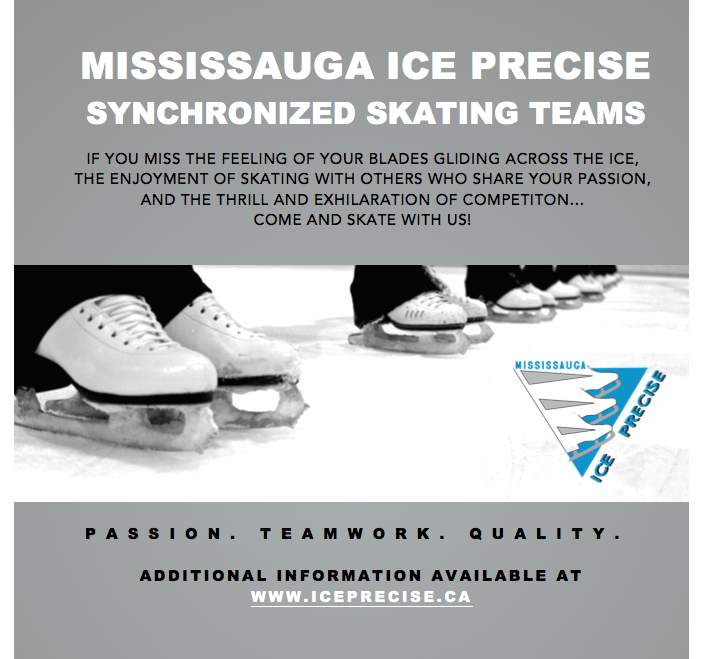 MFSC is on Social Media:
Skate Canada's CanSkate Program!
Registration
CanSkate, Adult CanSkate, Parent and Tot, PreJunior and StarSkate program registration is available under the Registration tab. Fees are prorated on a weekly basis.
Locations
MFSC skates out of Tomken and Iceland arenas during the regular season with some exceptions for holidays and specific City required changes. Please refer to the CanSkate or StarSkate Schedule pages for details. Also, ensure that accept to receive all email notifications from the Club as we communicate location changes to our members by email. (email preferences can be updated in your account settings)
MFSC Holiday Gala 2016
Club Newsletters